Silestone Nursing
Another advantage of Silestone is the simplicity of cleaning and maintenance. In most of the cases a dirt may be removed using a dry cloth only. These are the steps to follow while mainteining a beautiful, clean surface.
SILESTONE MAINTENANCE

Dry cloth should be used when there are no fat stains on the surface. Some of the persistent dirt can be removed by using a plastic spatula or a sponge.
We also recommend a great cleaning products for table tops:
Q-Force (for professional appliance)
Q-Action (for individual clients)

Silestone surface shouln't be cleaned with any wax based products or sprays as it may strongly affect the structure of the material.
Q-Action - Cleaning product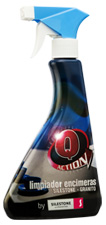 ​-keeps the color of the top (unlike many agressive products that change the polished surfaces)
-adds a shine after each usage
-cleans all the stains (wine, oil, lemon, ballpen etc.)
-made of natural soap