Premium + Antiseptic
Silestone is the only brand in the stone industry that produces antiseptic material. The tchnology is based on controlled silver ions release that stops bacteria from spreading.
Bacteriostatic Protection
Silestone Premium +
It integrates the controlled silver ions release with the Premium + material that reduces bacteria migration in the whole structure. It provides a very safe environment for food processing on the surface.

How does it work?

a) Silver ion (Ag +) is incorporated into the Silestone + P matrix in a production process
b) Bacteria is spreaded evenly on the surface
c) The matrix is realeasing the silver ions in the controlled manner what affect bacteria
d) This influence blocks bacteria reproduction mechanism
How do the silver ions affect the bacteria?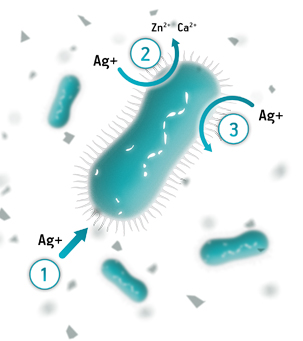 1) It demage the cell membrane
2) Ca2 + and ZN2 + ions exchange
3) The cell elements interaction ( S, O, N)
The final effect is the minimalization of the bacteria growth.
The amount of bacteria on the Silestone + P that are present on the surface after 24 h is 99% less than on the other materials.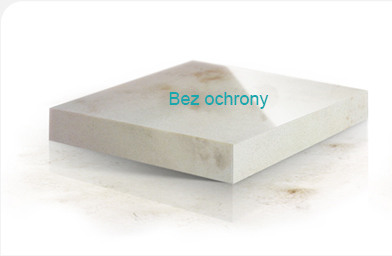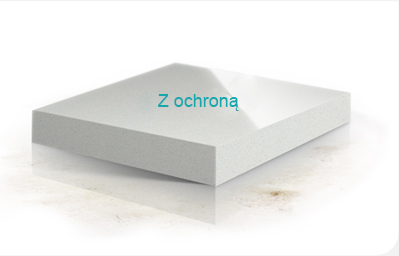 Regulations according to the bacteriostatic patent rights:

- US Environmental Protection Agency (EPA)
- US Food and Drugs Administration (FDA)
- Europejska dyrektywa 98/8/CE i dekret królewski 1054/2002 w sprawie obrotu biocydów.
- Rozporządzenie CE nr 1935/2004 w sprawie materiałów i wyrobów przeznaczonych do kontaktu z pożywieniem.
- Dyrektywa 2002/72/CE w sprawie materiałów plastikowych przeznaczonych do kontaktu z pożywieniem. Dodatki do wykazu zatwierdzonych materiałów.
- Pozytywna ocena dodatków przez Europejski Urząd ds. Bezpieczeństwa Żywności (EFSA) z ustanowieniem określonego limitu migracji.
- Ogólnej i specyficznej migracji biocydów w żywności poniżej granicy bezpieczeństwa EFSA w drodze prób podyktowanych dyrektywy 2002/72/CE.